www.taschenfreak.de
Prev | Index | Next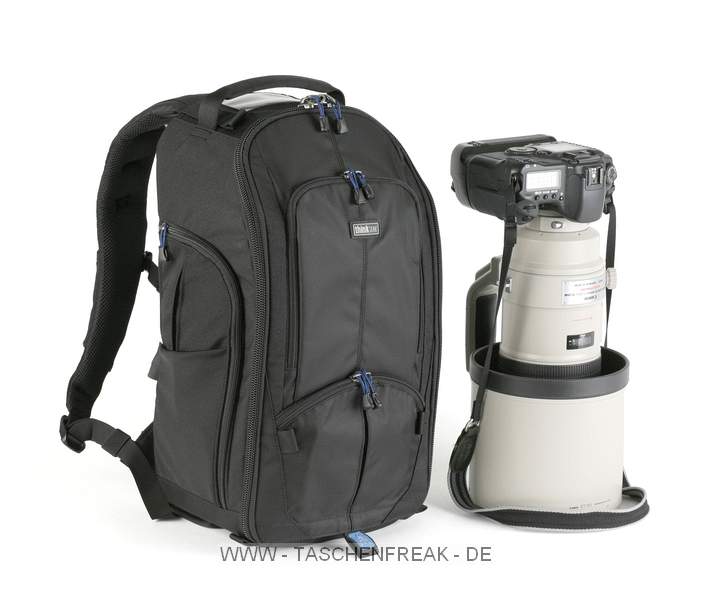 THINK TANK PHOTO - STREETWALKER PRO

Foto von Think Tank Photo USA - Erwin Brian - VIELEN DANK!

Kommentar des Herstellers bei Ankündigung (leider nur in Englisch):

Think Tank Photo has launched a new concept in backpacks, the StreetWalker series. The three StreetWalker backpacks are designed for quick access to bodies with lenses attached for active shooting, while maintaining an especially slim profile. Their unique contoured design solves a significant problem experienced by photographers shooting in urban and other crowded environments: getting the shot in spaces that allow little room for navigating.

StreetWalker Pro -- This backpack is designed for a Pro Size DSLR with up to a 400 2.8 attached, or a 70-200 2.8 attached and hood in position. It also includes the monopod/tripod mounting system, the contoured harness and air channel, and lots of pockets and organizers.

Internal Dimensions: 9.5" W x 16.5" H x 7" D (24 x 42 18 cm)
External Dimensions: 10" W x 17.5" H x 7.5" D (25 x 45 x 19 cm)
Weight: 2.6 lbs - 3.4 lbs (1.2kg - 1.5kg) (Varies based on accessories used)

The StreetWalker backpacks were designed by veteran camera bag designer, Think Tank's own Lily Fisher. "First and foremost these backpacks give photographers quick access to their gear while allowing them to maneuver easily through crowds," said Fisher. "Additional benefits are the slim profile and new concept in shoulder straps."

Their unique design makes them especially useful for women photographers. A common complaint of women photographers is that photo backpack shoulder harnesses are designed for medium-sized men. The shoulder straps in the StreetWalker have been specifically engineered to fit a wider range of sizes for both men and women. Women in particular will appreciate the StreetWalker's very narrow and vertical profile, especially when combined with the shoulder harness.
---
Unsere Taschenfreak - Meinung:
Profis und Ambitionierte Fotografen nutzen Think Tank Photo Artikel und wissen ganz genau warum ... Diese Artikel glänzen mit durchdachten von Anwendern und Profis designten Ideen und sind von Menschen entworfen worden, die genau wissen was ein vielreisender Fotograf braucht und was nicht ... das finden Sie weder bei Lowepro, noch bei Tamrac noch bei anderen sog. großen Marken.
Profis wissen warum .... "Nur noch Think Tank"
Viele weitere Informationen finden Sie auf der Hersteller Homepage, die wir jedem nur empfehlen können.
---
THINK TANK PHOTO kaufen Sie zuverlässig bei
Bitte bei der Bestellung "Taschenfreak" im Bemerkungsfeld angeben.
Unsere Taschenfreak-Empfehlung:
"Think Tank Photo und vieles andere an Profi Equipment kauft man bei ISARFOTO ..."